Schools/ECEs/Sports Groups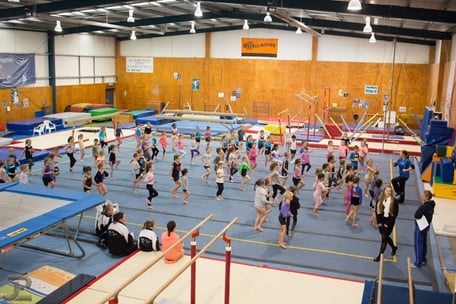 Schools, ECE's and other sports groups
We have a great range of offerings for groups other than our member classes to come and enjoy our facilities and great classes our coaches have to offer.
​This includes Schools, Early Childhood Educators and other Sports Groups. We deliver a range of sessions from generic movement and conditioning classes with a gymnastics twist, to gymnastics and trampoline specific classes and competitions for our community.
​We can craft a programme for all ages and ability levels.
​If you have a group that is interested in getting involved in one of our programmes below - get in contact - we'd love to create the perfect session for you and your group.
We can deliver in a variety of ways:
* At your school
* At our facility
* In-curriculum to support your learning focus
* In lunchtime
We can do one off sessions or up to 10 week programmes.
School Lunchtime Programmes
Our coaches come to you and work with your children through gymnastic progressions and offer a variety of exercises.
These schools are currently offering lunchtime gymnastics for their students hosted within their own school hall.
**HUKANUI PRIMARY SCHOOL** (Mondays)
**ROTOTUNA PRIMARY SCHOOL** (Wednesdays)
**SILVERDALE PRIMARY SCHOOL** (Fridays)
​SCHOOLS - Looking to offer a Gymnastics Optional at your school? Why not offer a weekly lunchtime session. Contact us for more information
PARENTS - Looking for Gymnastics but can't get to Afterschool classes? Only available at select schools. Login or register here
School Events - Primary and Intermediate Schools
Every year Hamilton City Gymnastics hosts school events for beginner to club competitive level gymnasts. These events are fun, participation events to introduce students to gymnastics and provide the opportunity for club gymnasts to represent their school.
Entry information will be sent out to schools 3 months preceding the event at the latest, including entry closing dates. All information and entry forms for each event will be uploaded to this page.
​Please contact our school events co-coordinator for any queries or information regarding schools events.

Hamilton City Schools Festival - Years 2-8
Thursday 22nd June 2023 (approx 9am-2.30pm)

Waikato Regional Schools Festival - Years 2-8
Thursday 24th August 2023 (approx 9am-2.30pm)